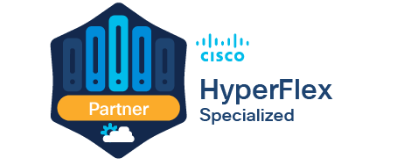 More and more organisations are recognising the need for multi-site distributed computing to meet the growing requirements in a branch office, remote sites, the Internet of Things (IoT), and other intelligent services at the edge. In a technology-dependent world having infrastructure ready for any application, any cloud and ready to be deployed anywhere is vital to an organisation's success. Oreta knows this. That's why we are proud to have recently advanced our expertise in the cloud domain and accomplished a HyperFlex specialisation with Cisco.
HyperFlex is Cisco's solution for simplifying today's multi-cloud installations, making them highly scalable and resilient within a hybrid IT environment. With the specialisation, Oreta can build its capability to deliver HyperFlex solutions and strengthen its brand as a trusted Cisco Authorised Partner and advisor to our customers within the HCI market.
Oreta achieved the HyperFlex specialisation and became qualified to install, design, manage and troubleshoot HyperFlex solutions by completing a formal authorisation process and having our technical specialists complete prescribed learning pathways, including a rigorous examination.
Several of our customers are already reaping the benefits of our HyperFlex specialisation. They are seeing the high-performance gain and cost reduction with the ease of putting their entire IT environment in the cloud with great speed. They are also experiencing more effective management of critical applications, coupled with high availability and performance.
We will continue to advance our expertise in HCI technology by having exclusive access to learning maps and training, which will ensure we provide a consistent service to our customers.
Suppose you are considering shifting to a multi-cloud environment and are keen to augment your mission-critical applications? Then, consider Cisco HyperFlex as the right solution for you. Our technical experts are available to talk to you about the benefits of Cisco HyperFlex today.