1. Escalating Cyber Threats
One of the most immediate and apparent impacts of the Australian cybersecurity talent shortage is the escalating number and complexity of cyber threats faced by businesses. As the demand for cybersecurity professionals far outstrips the supply, Australian companies are left vulnerable to an array of cyberattacks, from ransomware attacks to data breaches, the shortage of skilled Cyber Security professionals means that Australian companies will struggle to defend against these threats effectively.
ACSC -Annual-Cyber-Threat-Report-2022-2023
ACSC -Annual-Cyber-Threat-Report-2022-2023
The scarcity of cybersecurity talent also translates into higher costs for businesses to attract and retain skilled professionals in this competitive field, companies often find themselves offering substantial salaries and benefit packages. Due to the complexity of cyber-attacks, according to Deloitte Insights, businesses spend 10.9% of their IT budget on cybersecurity. This expense can strain budgets, especially for smaller businesses, diverting resources away from other essential areas of operation.
3. Delayed Incident Response
In the event of a cybersecurity incident, a swift and effective response is crucial to mitigate damage. This can include preparation, detection and analysis, containment and mitigation, investigations and forensics, communications and reporting, recovery and future protection. However, with a shortage of qualified experts, Australian companies may experience delays in identifying and responding to threats. This delay can result in increased data loss, extended downtime, and even reputational damage. Australian businesses are uniquely vulnerable to compliance risks due to our complex and increasingly regulated landscape.
4. Compliance and Regulatory Risks
Many industries in Australia are subject to strict cybersecurity regulations and compliance standards
, APRA
,
SOCI ACT 2018
to name a couple, failing to meet these requirements can lead to severe penalties and legal consequences. The shortage of cybersecurity talent makes it challenging for Australian companies to stay compliant and can expose them to unnecessary risks.
5. Innovation and Competitive Disadvantage
Innovation often goes hand in hand with digitalisation, and businesses that lack cybersecurity expertise may hesitate to adopt new technologies. This hesitation can hinder growth and put companies at a competitive disadvantage in a rapidly evolving digital landscape.
Some businesses resort to outsourcing their cybersecurity needs to third-party providers. While this can alleviate the talent shortage problem for there organisation, it also comes with risks related to data security and privacy. Entrusting sensitive information to external entities requires meticulous vetting and management. Demand for cyber security workers is set to remain strong in coming years, meaning the skills shortage will not ease without consistent efforts to increase supply. The sector could require up to 16,600 additional workers by 2026.
7. Education and Skill Gap
Addressing the Australian cybersecurity talent shortage is a long-term challenge that involves nurturing a pipeline of skilled professionals. TAFEs and universities around the country have rapidly expanded their cyber security program offering in recent years, often in close partnership with the cyber – security industry. Approximately half of universities across Australia offer IT or computer science qualifications. Although the growth of cyber security presence has grown in the Australian education system, they take time to yield results. In the meantime, businesses continue to face the immediate consequences.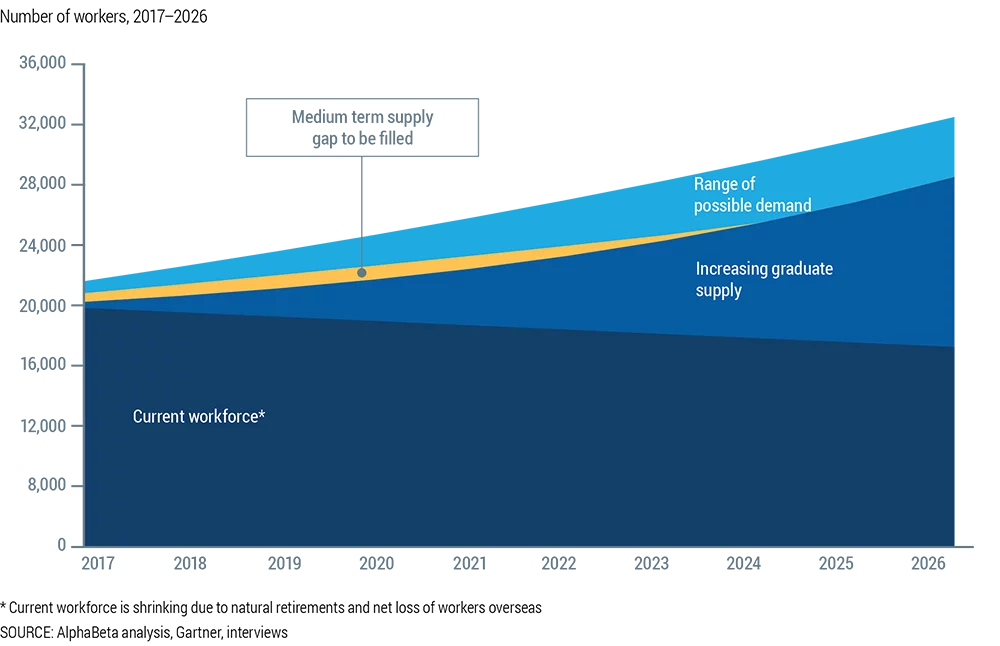 The Australian cybersecurity talent shortage is a critical issue that impacts businesses across the country. From heightened security risks and increased costs to compliance challenges and delayed incident response, the consequences are far-reaching. To navigate this landscape successfully, businesses must adopt a multi-pronged approach that includes talent development, strategic partnerships, and a proactive cybersecurity strategy. Only by addressing this shortage can Australian businesses hope to protect their digital assets and thrive in the digital age.